As one of the most ancient Chinese musical instruments, it is no surprise that the guqin had been mentioned in countless essays and poems throughout its 3000 year history. Such old famous sayings as "an educated man never parts with his guqin without a reason" and "guqin in left hand, book in right" sparkle amongst volumes of Chinese literature, and ancient guqin melodies retaining their shine of popularity through the ages are testimonial to the heritage of the guqin worth cherishing.
As part of her tireless effort in promoting traditional Chinese music and culture since immigrating to Canada almost forty years ago, in 2016 Diana Tang opened Stringless Guqin House – a physical manifestation of the Zen of music, tea and incense, and how these elements of the senses bring about purity and tranquility.
As with so many Chinese proverbs and famous sayings, this adopted name was inspired by a famous poet – and a guqin lover no less – some two thousand years ago. Find out how the name Stringless Guqin House came about.  
Stringless Guqin House not only aims to preserve and promote the traditional life and culture centered around the guqin, it also serves as a gathering place and platform for overseas lovers of traditional Chinese culture, where they can learn, exchange ideas and spread the message of the guqin.
Guqin Classes
As with other skills in life, nothing worth acquiring comes with no serious effort. However, if you have a desire to get closer to traditional Chinese culture, let it become a part of your life and be able to strum a melody or two, then Stringless Guqin House would be an ideal place to start.
Your journey to learning the guqin will be one full of delightful surprises. Our guqin classes are based on years of teaching experience and the style of Master Diana Tang. From the beginner stage, our gradual approach will also take you deep into fingering and notes reading techniques.
Class Options
Beginner's classes – Opens your door to the world of guqin, experience the joy of learning, acquire basic fingering techniques and learn to play three beginner's level classic pieces. These classes are ideal for anyone with zero prior experience.
Intermediate classes – Continue to cultivate your interest and potential by going deeper into the fingering techniques and learning additional melodies.
Class Formats
One on one – This is the most ideal way to learn as it is tailor-made for your needs and you have the undivided attention of the instructor.
One on two – Learn and grow together with your friend, lover or family member. With someone you love on your side, the journey will never be lonely. With mutual encouragement, your journey together will never be weary.
Instructors
Diana Tang, owner, performer and educator
With a keen interest in Chinese arts and philosophies since her early age, Diana Tang first discovered the guqin when she was 19. She cut her teeth through ten years of learning following guqin master Qiao Shan, a second generation descendant of Jiu Ni School Master Guan Ping Hu, followed by learning how to play two classical pieces – Wen Wang Cao and Xiao Xiang Shui Yun – from Masters Cheng Gong Liang and Gong Yi. With her deep knowledge of Chinese philosophy, she elevates her playing skills and appreciation for the music beyond the fingering techniques. The elements of Chinese culture and philosophy emanating from her inner souls come in abundance in her numerous performances, a recent one of which being held in Vancouver, Canada, in 2018.
In her 40 years living in Vancouver, Diana tirelessly dedicates herself in guqin teaching, performances and advocacy. She also provided guqin instructions at the University of British Columbia.
Catherine Yan (Xiao-Yan)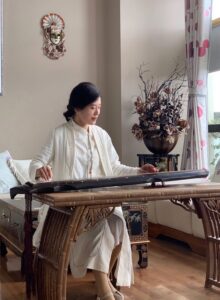 Born into and nurtured by a music family, Catherine has fallen in love with traditional Chinese culture and classical music since an early age. Having been exposed to the instrument for many years, she also taught guqin on the side. After immigrating to Canada, Catherine furthered her skills by following Diana. As a disciple, she also follows her footsteps in promoting the guqin in North America.
Catherine deeply enjoys teaching guqin, and firmly believes that music enhances one's temperament, and brings maturity and strengths to one's character. She imparts complex concepts using simple language, and is meticulous yet infinitely patient.
Class Venue
Practice will be done using a hand-made guqin placed on a tung wood guqin table.
Stringless Guqin House also has a Chinese tea area where you can have a taste of traditional Chinese tea culture along with the sounds of guqin.
Contact
Address:
Parker Place, #1455 – 4380 No 3 Road, Richmond, B.C., Canada, V6X 3V7
Phone:
Store: 604-270-1135
Diana Tang: 604-868-1633
Catherine Yan: 778-320-4608
Email: stringless@guqinworld.com