我行走在靜謐的世界裡
吾心舒緩的思維慢慢地輕輕靜止……
讓思想和每個念頭安定下來
凝視白色的時光遠離繁華
水晶般清醒透明那時刻
我行走在南開大學的校園裡
近乎書香的完美與屏息
把一切交給了自己
交給詞人葉嘉瑩優雅的節奏
塵世的喧囂與鋒芒不見了
傳統與邏輯消失了
我感覺與生俱來的淡泊
輕輕地細吟
沉醉在極樂的夢裡
I walk through a peaceful and quiet world
My mind unwinding to a standstill…
Settled are my thoughts and ideas
Watching white light of time escape the hustle and bustle
In this moment of crystal clarity
As I walk through the Nankai University campus
Amidst the air of literary perfection
Giving it all to my inner self
Giving it all to the poetic elegance of Professor Ye
Noise, edges of this world now indiscernible
Traditions, logic of this world now disappeared
I feel the innate simplicity
Gently humming
Deep in a dreamy nirvana
Faced with an ever-changing world, the best approach is to accept what comes and try to make something good out of every unfolding reality, while keeping true to one's principles.
Cognizant of this guiding thought, I immediately embarked on another journey to China despite barely touching ground after returning from a ten-plus-day exchange trip to Brazil with São Paulo University and Brasil Templo Tzong Kwan.
Accompanied by Professor Ms. Liang Lifong, the occasion for the trip this time was the joint event of the international Symposium on Chinese Poetry Teaching and the commemoration of the 40th anniversary of the repatriation and teaching of Professor Ye Jiaying at Nankai University in Tianjin.
My gifts to bring along to my meeting with Professor Ye – my devoted heart, a first draft of my book The Way of the Guqin, which I toiled over for 15 years, and a guqin song to the tune of Magpie Steps on the Branch 《鵲踏枝》.
The lyrics of Magpie Steps on the Branch come from Professor Ye's poem she wrote in 1980. The music was composed by famed Vancouver composer Xie Tianji, which I adopted into a guqin song.
《鵲踏枝》作者:葉嘉瑩 
玉宇瓊樓雲外影,也識高寒,偏愛高寒境。
滄海月明霜露冷,姮娥自古原孤另。
誰遺焦桐燒未竟,斫作瑤琴,細把朱弦整。
莫道無人能解聽,恍聞天籟聲相應。
Magpie Steps on the Branch by Ye Jia-ying
Images of jade palace in the distant clouds;
though high and cold, oh what icy beauty.
Moon over the ocean on a clear, frosty night;
Moon Goddess always been in solitude.
Who left the half burnt phoenix tree?
Out of it, carved a guqin, mounted with strings.
No one listening, I care not;
To my side the heavenly sounds nature brings.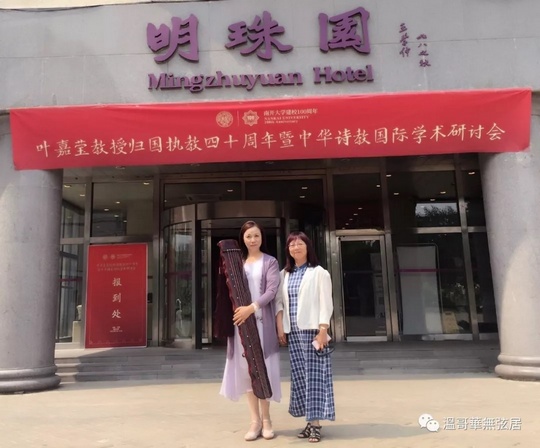 It was five years ago when Professor Ye returned to Vancouver and visited my humble abode. It was a pleasant gathering along with famous Taiwanese poets Ya Hong, the Luo Fu couple, sinologist Wang Jian and his wife Professor Li Ying, Chinese Writers' Association chair Chen Haoquan, Nankai University professor Zhang Jing and several of her students.
It was in the presence of those distinguished predecessors and those who share the same interests that I had the honor of entertaining the guests with guqin music.
It was a glamour filled meeting hall at Nankai University on September 10, 2019, where the joint event of the international Symposium on Chinese Poetry Teaching and the commemoration of the 40th anniversary of the repatriation and teaching of Professor Ye Jiaying at Nankai University was held. This special event was attended by more than 170 scholars from the United States, Canada, Singapore, Japan, Mainland China, Taiwan and Hong Kong. To commemorate the 40th anniversary of Professor Ye's repatriation to China to teach at Nankai University, I had the honor of playing guqin to the distinguished guests.
The next day I visited Professor Ye. Despite her age, her strength of character continues to shine through. Poet Tao Yuanming once said "Life follows the Dao of nature; activities which sustain life naturally take priority." Professor Ye's interpretation of this famous saying goes like this: "Our ultimate goal is to achieve Dao, the highest of ideals. The same goes for the guqin for me."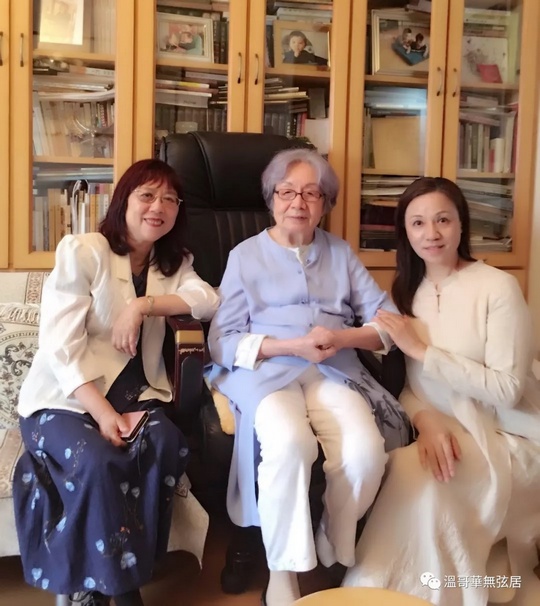 Confucius advocated using poetry as a means of teaching gentleness and kindness. In fact, literature preceding Confucius and tracing back to ancient King Shun already outlined how to raise the young using poetry and songs – how to be righteous but moderate, accommodative but solemn, fortitudinous but not harsh,  humble and not arrogant – through the praising of such desirable human character traits in poems, and by accentuating the poems through music and songs.
To my eyes, Professor Ye takes the teaching methods of these ancient sages to heart and uses them as guiding principles in her decades long, tireless teaching of poetry. At our Stringless House we also strive to achieve the same goal of character development.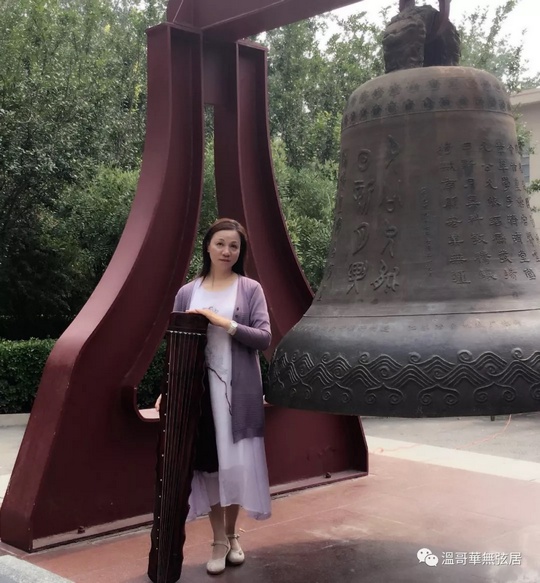 The self-proclaimed Zen induced music habit of mine, is like an innate desire that is difficult to suppress. Though just thoughts and concepts, it inexplicably pushes me along in digging deeper into the vastness of literature and guqin, day and night, like cresting waves between the shores of the running river of time and space. It is in my study library where the desk lamp, classic literature, guqin, poetry – and I –  engage in cycles of congregating and bidding farewell. These perpetual cycles routinely yield their rewards – fruits for the picking, sweet and content. At the same time, it is also the invisible wealth of small fragments of experience collected through time and space that is so tangible and real. To me, whether it is the change of seasons, the rhythms of joy and sorrow, or a fleeting moment of happiness, the experiences of those here-and-now's will forever be etched into the words and musical notes of one's life.
I will forever cherish the moments with the 95 years-old professor.
踏入南開校園
輕輕躡步
向嘉瑩老師
古雅的書房
提著心細細
溫潤地敲門
門開了
一屋子書香迎面撲來
葉老滿身淡泊的清香迎面撲來
我們頓時身骨柔軟
我們頓時心扉透明
多麼古典而現代的詩歌女神
賦著蘇軾,清照的辭採
誠誠懇懇傳給今天的學子
多麼了不起的偉業
輪椅上的老師呀
一剎那
您九十有五了
當您在輪椅上伸開雙臂擁抱我們
我們熱淚盈眶
不知今夕何夕
唯覺如詩如夢的歌賦在胸間跌宕起伏
Entering the Nankai campus,
With gentle steps
Towards Professor Ye,
Her quaint and elegant study.
With tender heart,
I knock lightly on the door.
The door opens.
Greeting me is the charming smell of books;
Greeting me is the subtle fragrance of old Professor.
In this moment, I feel my sweet surrender;
In this moment, I can see through my heart.
The goddess of poetry, so classic yet so modern;
Overflowing with timeless poems of Su Shi and Qingzhao;
Her sincere imparting to her students,
An achievement so bountiful.
Oh Professor in her wheelchair
In this very instance,
At your tender age of 95,
As you extend your arms to greet us,
Our eyes are filled with tears.
Inside of me there is no sense of time and space;
Only dreamy poetry and ballads rising up and down the depths of my heart.